Chemical Peels
Perfect Peel

We offer The Perfect Peel which is the only peel that uses Glutathione as a founding component. What is Glutahione you ask? It's an antioxidant that is known to prevent damage caused by free radicals and peroxides. Sun exposure, environmental stress and air pollutants deplete our Glutathione levels as we age and the Perfect Peel helps repair your skin.
Want to know what all this peel can do for you? It is proven to turn dark pigmentation in light pigmentation by reversing the melanin's metabolism. It also gives your skin a radiant glow, refines pores, diminishes fine lines and wrinkles and eliminates acne!
This is a deep peel which means you will need a few days off while your face heals. We recommend coming in on a Thursday or Friday so you get the whole weekend to shed off the old skin and shine with the new skin on Monday.
Vitalize Peel by Skin Medica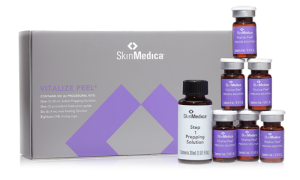 The vitalize peel offers noticeably smoother fine lines and wrinkles after just one peel. You can see even greater results when you buy a package of 3 to 6. This peel is not only good for fine line and wrinkles, it's also so good for those with light sun damage and acne prone skin. If you want a healthier, more youthful glow with minimal downtime, this is a great choice!
Peels by Rhonda Allison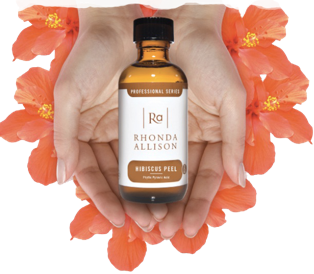 Great for normal, dry and oily skin types. This peels infuses the skin with vitamins and nutrients you skin craves.
Lotus Peel: This acid peel offers up a healthy dose of antioxidants. It hydrates, plumps and gives you luminosity.
Melanin Lift Peel: If you have hyper-pigmentation then look no further! The Melanin Lift with improve texture and tone, reduce wrinkle formation and lighten discolorations. All of this will give you a more even skin tone.
Detox Peel: Just like a body detox helps restore your internal balance, this detox peel with help restore the balance of your skin. Our goals with this peel are to control acne, balance sebaceous activity, and loosen skin impurities for easier extraction to heal lesions.
Brighten Up Peel: New to peels? This peel is great for a newbie! It will help brighten the skin, improve texture, and soften fine lines.
Radiance Peel: Great for those with sensitive skin that is prone to redness and irritation. This peel uses gentle but powerful ingredients like Beta Green Tea and Hibiscus Peel that will induce healing and renewal of your skin.
Take a look at some Before & Afters!