Free Massage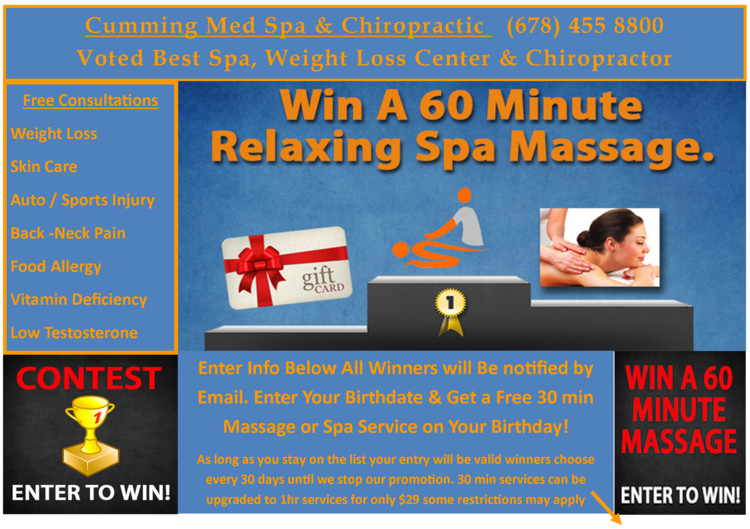 Enter to Win a 60 Minute Massage or Spa Service
Free Monthly Massages & Spa Services
All Winners will be notified by email as long as you are on the list you are entered.
Gratuity not included.
Get a Free 30 Min Massage or Spa Service on your Birthday.
Enter your birthdate in the Questions & Comments area and we will add it to the list.
You must be registered on our email list to recieve Your Birthday Certificate by email.
Current services available for your birthday are Massage, Facial or Microdermabrasion.
You may upgrade your service up to an Hour for only $29
Custom Services 50% off on your Birthday or Special Pricing available on Spa Packages (must be approved by Spa Manager at time of booking)
You Must have an appointment for your service. Please arrive 10 min early to complete registration forms.
Cancellation policy still applies if you need to reschedule your appointment please give us 24 hr notice so we can let your service provider know ahead of time.
"No Shows" will be removed form the Birthday Promotion List.
Birthday Offer expires 30 days from when your Birthday email is sent.
Please call asap to schedule your appointment, we are providing many services already and don't always have immediate availability.  The Spa books out on high volume times (Evenings, Fri, Sat etc.) many weeks in advance.
Certain other restrictions may apply and this promotion may be discountinued at any time.
We would love to have you visit our Spa & Business, hopefully we can continue this promotion for you to enjoy many birthday services with us.
Please help us make & keep your appointments so we can continue this promotion for everyone 🙂
Gratuity not included.