Spa Facials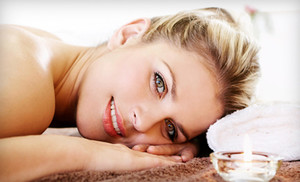 SPA FACIAL MENU
Custom Facial -50 minutes – $90
Customized to your unique skin type this facial will cleanse, exfoliate, hydrate and remove impurities to illuminate your skin.
Deep Pore Detox Facial – 60 minutes – $110
Penetrates deep to dissolve clogged pores, remove debris, kills bacteria and reduces inflammation leaving the skin purified.
Anti-Aging Facial – 60 minutes – $120
Designed to slow the aging process, brighten skin, firm and reduce wrinkles, giving a rejuvenated youthful complex.
Gentleman's Facial – 50 minutes – $80
Specialized to address men's challenged skin, pores are cleansed, irritated skin is soothed and dry skin is hydrated.
Spa Back Facial – 30 minutes – $70
A complete Cleanse and exfoliation prepare the back for a gentle massage, masque and moisturizing lotion to add a finished touch.
Teenage Facial – 45 minutes – $55
Individualized for teenagers suffering from hormonal changes targets acne with deep cleanse, extractions and application of acne products. Recommended twice a month.
Refresher Mini Facial – $30 minutes – $55
Beauty on the go! Quick effective lunch break pampering, caters to busy individuals who still want to look and feel great!
ADVANCED SKIN CARE MENU
Microdermabrasion – $75 per treatment or $375 for a series of 6 (6th treatment complimentary!)
This procedure, also known as the "Lunchtime Peel", is a quick non-invasive treatment used to resurface the skin. Tiny crystals are sprayed onto the face to create a sandblast effect and then suctioned off to reveal a smoother, more radiant and youthful complexion.
Microcurrent Technology – $100 per treatment or $500 for a series of 6 (6th treatment complimentary!)
This transformational treatment lifts, tones and tightens facial muscles using microcurrent electricity. After the appropriate series of treatments, this procedure can drastically reduce years of aging off of the face, neck and body.
LED Red Light Treatment Facial (Anti-Aging) – $90 per treatment or $450 for a series of 6 (6th treatment complimentary!)
LED Red Light Therapy quickly and painlessly restores your body's natural cellular activity to produce collagen and elastin. This in turn, creates a more youthful appearance.
Collagen Induction Therapy (AKA Dermal Needling) – $199 per treatment (15% discount for a package)
Recommended in a series of 4 to 8 depending on individuals skin conditions and concerns. Medical micro-needling is rapidly gaining popularity for reducing wrinkles, scars, stretch marks, hyperpigmentation, and improving overall skin tone and texture. Compared to chemical peels, dermabrasion and laser treatments, micro needling causes substantially less tissue damage with minimal down time.
Add On Services
Paraffin Mask – $40
Oxygen Mask – $ 40
Collagen & Elastin Treatment – $40
Microdermabrasion – $25
High Frequency – $25
Pumpkin Emzyme Scrub – $20
Microcurrent – $25
Peels – $80-$205