Sports Injury Treatment Cumming Ga
Do You Want to Perform to Your Potential & Prevent Injury?
Do You know what Top Athletes do to Get Healthy & Stay Healthy?
(*As of 9-1-15 we no longer accept any forms of insurance, those currently on insurance please speak with our staff to make other arrangements or you may want to talk to your insurance provider to find a doctor in your network. This includes personal injury cases as well, we will be a provider of non-insurance, private pay chiropractic care.)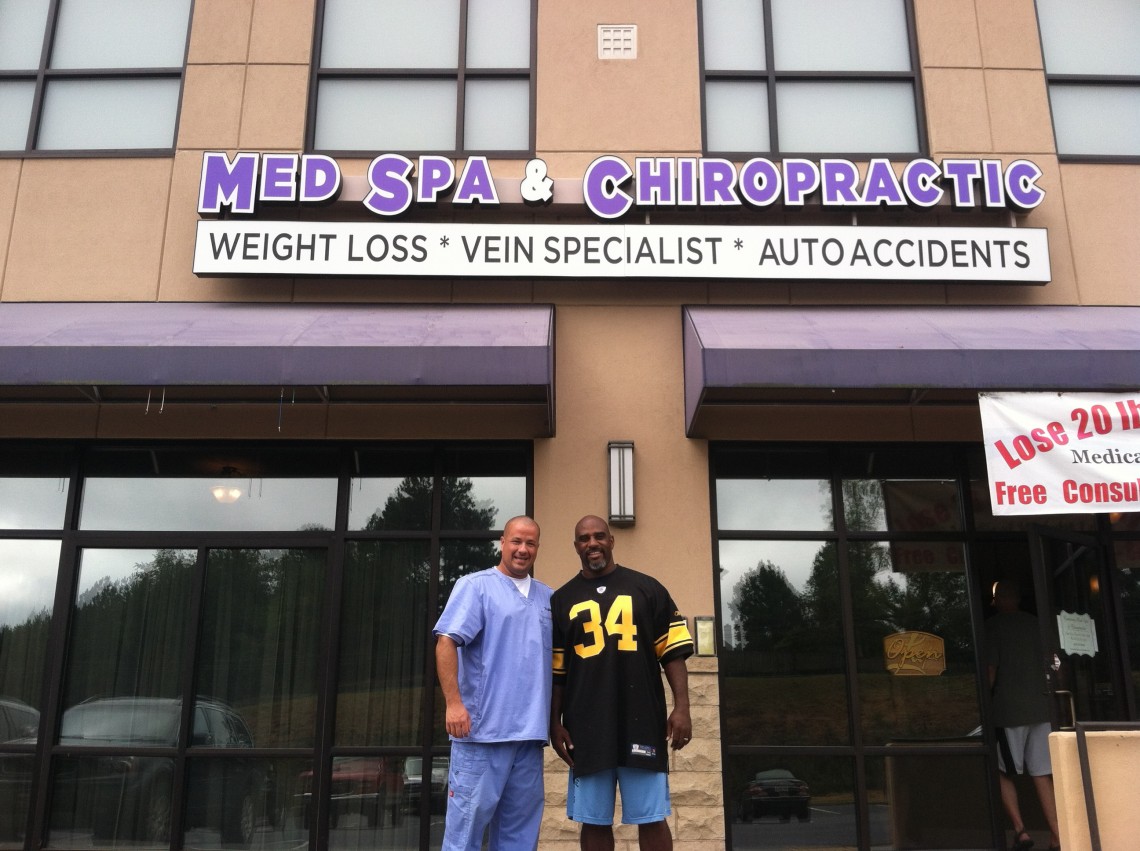 Dr Klein & Tim "The Bus Driver" Lester. Tim Played Professional Football for many years with the Rams, Steelers & Cowboys. As a Fullback he sacrificed his body to clear a path for Hall of Famers like Jerome Bettis & Emmit Smith. All those touchdowns came with some significant wear & tear on Tim's body. We have worked with Tim to eradicate the Pain from he and his family. Tim and his family are amazing people and he now spends his time teaching kids about football and runs the youth football program in Milton & is the NFL play 60 rep for the Atlanta Region. We appreciate Tim's trust in helping him get and remain pain free.
Dr. Mike,
I would like to say thanks to all the work you and your staff have put into my pain management at Cumming Med Spa & Chiropractic. You and your wife Ronda are awesome people who run a first class business. Your staff provides first class customer service.
Your adjustments, the extra time you have spent giving me at home exercises to help manage my pain have been life changing for me; in addition to the sports massages has given me a new breath of fresh air, hope and has changed my home day to day living. After playing eight years in the NFL for the Steelers and Cowboys as a fullback blocking for Jerome Bettis and Emmitt Smith my body was in terrible shape from head to toe. I felt like as if my body was in pieces something was always hurting and I was always in a bad mood due to the sever daily pain.
I am blessed that I was on Craigslist looking for a pop up bag to teach my sons how to play tackle football. I found a man I consider a great friend, mentor, and a GREAT Chiropractor. Thank you for everything you have done for me and my family.
Tim Lester
Hi Dr, Mike,
Hope all is well. I am feeling so much better. Sharp pains are not at all frequent anymore here and there. My neck feels SO much better. I am attaching a testimonial letter for you. I should have just written go see Dr. Mike he is a magician not a chiropractor.
Being a busy mom with three young kids it is quite common for me to take care of my needs last. I had been experiencing a stiff neck, and sharp shooting pain to my left arm from time to time. Being the busy mom and thinking I can fix it or it will go away or maybe I just slept in a poor position; I of course ignored the pain putting my needs last and my family's needs first. As time went on the pain got a little sharper, my neck got a little stiffer making sleeping a chore or picking up my daughter excruciatingly painful.
At that point I decided to go to my neighborhood chiropractic office. I expected to leave there feeling normal and like super women; however, neither happened. I was in more pain and now the tears were coming frequently and the frustration around me was apparent. My husband, who had been seeing Dr. Mike demanded that go see him. The X-rays showed that the pain and symptoms I had was having may be from a herniated or buldging disk.
It has been five weeks to date that I have been getting treated by Dr. Mike and I feel like a new person. I can sleep, I have almost no sharp pain down my arm and my neck is not stiff at all.
I would recommend Dr. Mike to anyone who needs chiropractic care.
The Greatest Receiver of all time Jerry Rice Credits Chiropractic Care with keeping Him Healthy & Helping to Maximize His Performance.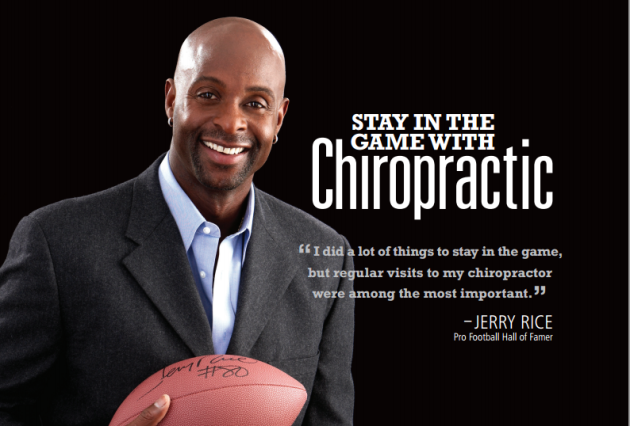 If you are Looking for a Competitive Edge or a Proven way to Prevent Injury, Like Jerry Rice do it with Chiropractic Care.
We specialize in getting & keeping you healthy. We use Chiropractic, Therapy, Massage & Medical Care to Work together to keep you ahead of the pack & prevent injuries.
We have specialized equipment and expertise to help you "Stay in the Game"! Give us a Call and see how we can help You.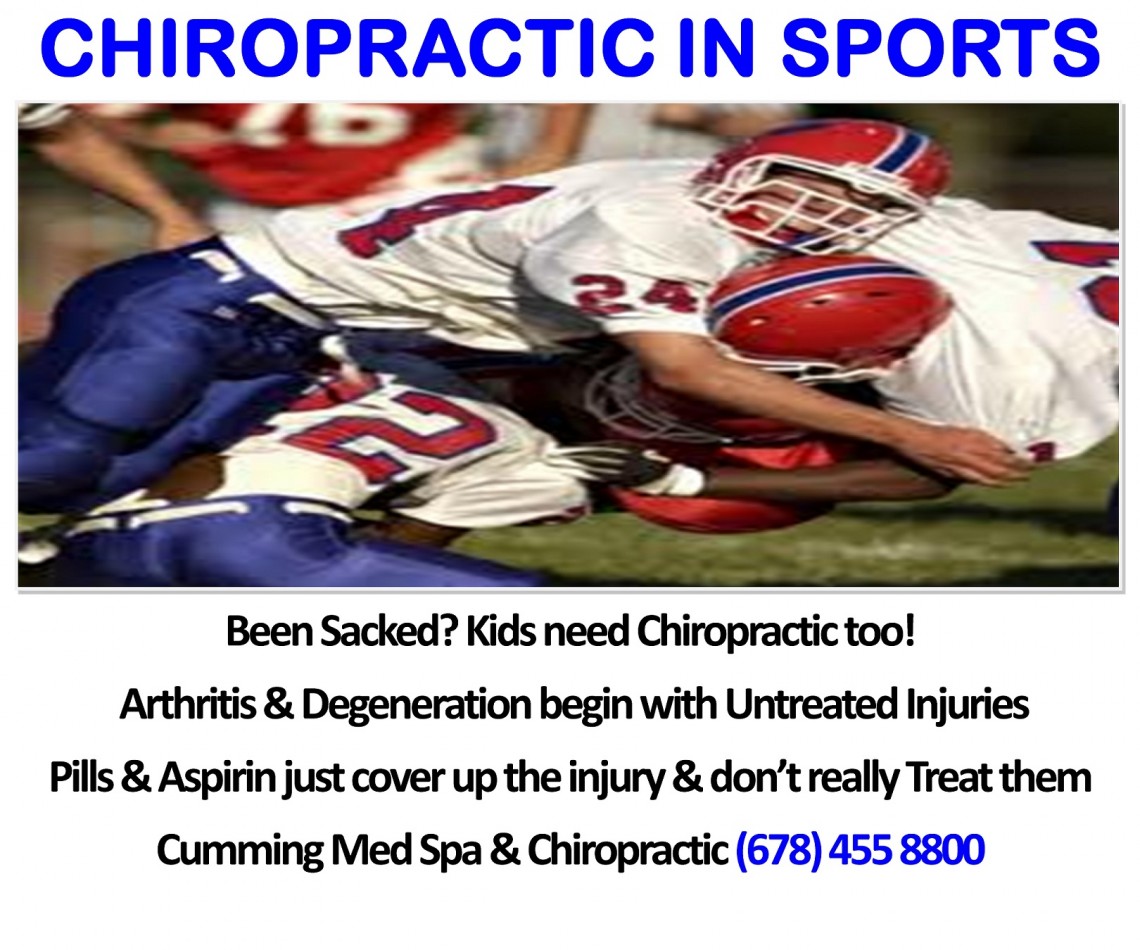 My son has been playing tackle football since he was 6, he has been getting his adjustments since then as well.
Don't think that kids don't get hurt. When I decided to let my son play football I also made the decision I would get him the necessary treatment to not have a life full of pain, medication and future surgeries. Many of which can be prevented with proper care. His story is below & some suggestions that we have used to keep him healthy.
Nothing is more important than our kids and their Health. Bring yours in and we will treat him or her like our own!
"When my son Started playing Football at age 6, I was more worried about the cumulative trauma (wear & tear) type of injuries that he would accumulate over time. I had seen other young men in their 20's as patients and many of them had the bodies of 50 yr olds. frequent pain, spinal arthritis etc."
When my son decided to play football we decided to do what we could to help prevent injuries.
He got regular chiropractic adjustments, of his spine, and extremities we ice very frequently and occasional massage. We try and balance his workouts to may sure his body gets time to recover, He pitches and plays QB so his arm is always working.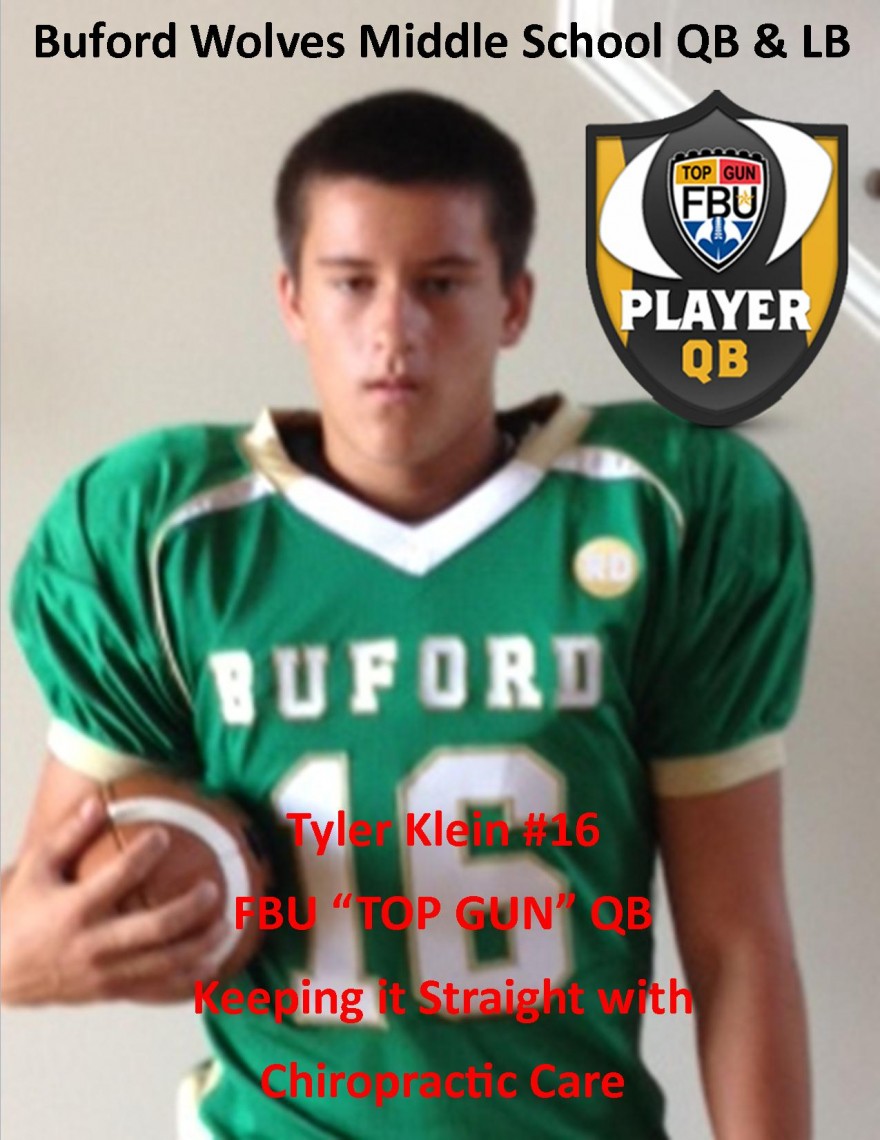 We have done some other things to help decrease risk of injury and increase body recovery.
The use of Fish Oils to decrease inflammation, better brain function and potential concussion prevention & treatment
Fish Oils Decrease Inflammation & Better Brain Function
Taking Fish Oils to Prevent Concussions
Xenith Helmet to help prevent and decrease head and brain injuries
Football Helmet that Protects from Concussions
Extra Padding during play- Lumbar (low back) pad, it is very light weight and does not intrude on performance. Very effective for high risk area.
Extra Lightweight Low Back Padding
We Love Football, But we Love our son more so we try and keep him protected so he can continue to enjoy the sport he loves. We don't want him to be a 20 yr old trapped in a 50 yr old body either.
Dr Michael Klein DC