Spray Tan
Norvell Custom Professional Spray Tan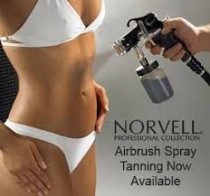 4 Step Sunless System
1. Prime
2. Bronze
3. Optimize
4. Enhance for a Safe, Fast & Gorgeous Tan!
Four little words tell the whole story when it comes to sunless-tanning success.

Skin must be exfoliated and pH-balanced before color application, and well hydrated before, during, and after for the best and longest-lasting sunless tan. That's why Norvell® developed product umbrellas that cover each mandatory phase of the sunless success process: prime, bronze, optimize, and enhance.
If you've given up parabens, sulfates, phthalates, and other things that are not so kind to skin, you're in good company. Norvell has eliminated all these ingredients from its formulas and instead lavished them with the purest, most natural skin nutrients on the planet. The products use a proprietary Natural Actives Sunless Complex™ featuring eco-certified, organic DHA (dihydroxyacetone), hydrating time release micro-capsules that natural enzymes, a dermal barrier that locks DHA into the upper layer of skin, and an advanced DHA odor encapsulation complex. The products are 100% vegan and gluten-free as well.
Following is a quick look at the "fab four" Norvell product groups along with examples of star performers from each: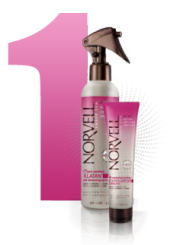 Prime
All good things in sunless tanning come to those who prepare. Exfoliation and pH balance are the keys.
Renewing Sunless Exfoliator — The perfect sunless tan begins in your shower with this gentle polishing treatment that removes impurities and debris to create a fresh canvas for color.
Pre Sunless xLaTan pH Balancing Spray – Did you know your skin's pH level has a huge impact on the look of your sunless tan? Restore harmony and boost your results by misting on this small miracle before you bronze.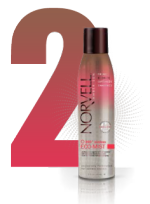 Bronze
Whether you prefer gel, crème, mousse, or spray, Norvell has the perfect color delivery format for you. A house favorite:
360° Sunless Eco-Mist is a professional organic airbrush solution featuring an exclusive blend of bronzers in an eco-friendly non-aerosol spray format. What's not to love?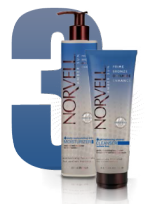 Optimize
Boost your results with a group of products specifically formulated to maintain your sunless glow. They're so good to skin, you'll want to use them all the time for their excellent hydrating and nourishing properties.
pH Balancing Shower Cleanser —Don't shower off your newly acquired glow by stripping skin of moisture. This sulfate-free formula is highly hydrating and helps keep skin's pH levels balanced. Bonus: a vacation-in-a-bottle warm vanilla scent.
Daily Replenishing 24hr Moisturizer — Lock in hydration and keep your color longer by smoothing on this luxurious formula right after showering, when skin is still damp.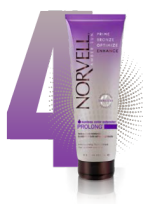 Enhance
The fourth and final goup includes not only instant, wash-away bronzers for the commitment-phobic but also face and body products that build a gradual sunless tan or extend your salon or at-home color. Norvell recommends them all, especially:
Sunless Color Extender ProLong, a daily moisturizer with a hint of color that multi-tasks to care for skin and tan at once.